BackstoryEdit
Solaris

Ever since he was born as far back as he can remembered he always lived alone with only one possession his longbow his source of food and protection against the sometimes cruel world, as he grew up he decided to became a ranger after finding a book on them with stores of their master archery and love of the woods feeling both he became one to protect his home, beliefs and the ones he calls family and friends but one day not knowing much of the outer part of the forest decided to travel it and soon became lost as he travelled town to town he became Solaris the Lost to the ones he met but destiny and fate decided to smile on him when he met his group of adventurers he currently travels with who he calls his new family silently and always ready to protect them, cover their backs and share in their fun.
Solaris is a Mercenary
Magic Items
Edit
+1 Longbow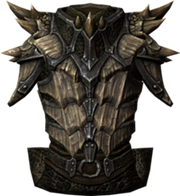 12 +1 Arrows
3 Acid arrows
+1 Elven Chain
Ad blocker interference detected!
Wikia is a free-to-use site that makes money from advertising. We have a modified experience for viewers using ad blockers

Wikia is not accessible if you've made further modifications. Remove the custom ad blocker rule(s) and the page will load as expected.